60 years of Victorian fashions
Welcome to the fifth in our series of blogs about how to understand and interpret your old family photos. In this series, Jayne Shrimpton, internationally recognised dress historian, portrait specialist, photo detective and regular contributor to Family Tree, Your Family History and Family History Monthly magazines, dates and analyses different types of photographs and helps you to add context to your old family pictures. Having learned in the previous blog how photograph compositions and studio settings changed over the years, we now look closely at what our forebears are wearing in old photographs. In any kind of portrait it is often the subject's clothing that engages us most: fashion history is a fascinating topic and recognising the modes of different eras is an invaluable tool when trying to date unlabelled photographs. Dress is a vast and complex subject, but here are some pointers to help with understanding, identifying and dating the clothing styles of those family members from the past who stood before the camera in their 'Sunday best'.
The succession of distinctive, dateable styles that characterised female dress centred on a changing silhouette formed by the corsets, crinolines, bustles and other under structures worn beneath clothing, along with the complimentary sleeve shapes, dress trimmings and hairstyles of each period.
Men's attire, on the other hand, is often only dateable to about a decade or thereabouts, as male modes reflected more subtle shifts in tailoring and slow-changing features such as styles of neckwear and fashions in facial hair, as well as the occasional appearance of new garments.
Children's dress, which echoed adult clothing to a degree, but also followed its own conventions, may also be harder to pinpoint very precisely. That said, it should always be possible to gain a reasonable date range for a photograph, based on the appearance of its subject's clothing, especially when this technique is combined with the other photo dating methods already covered in previous blogs. In the following sections are some basic, practical tips for recognising the main stylistic changes in female, male and children's dress, with illustrated examples.
For more detailed advice and to see further dated images for comparison, it is worth checking back over some of the photographs used to illustrate previous blogs in this series and also consulting some of the books listed in further reading. Between the s and late s, essentially the fashionable female silhouette comprised a fitted bodice attached to a bell-shaped skirt, which became even wider in circumference after the introduction of the domed crinoline frame in fig.
Throughout the later s, the front of the skirt became progressively flatter, with the emphasis growing increasingly on the back. The distinctive bustle silhouette prevailed until aroundwhen it began to become outmoded. The new, elongated cuirass bodice effectively forced the bustle downwards and in the late s the excess drapery fell into a long train behind fig.
In aroundthe train was abandoned for day wear and outfits of the early s were narrow and sheath-like: long, tight-fitting bodices formed an unbroken line over the hips, while shoe-length skirts were wrapped closely around the legs fig. By the s, naturally-shaped skirts were fitting closely over the hips, the main dating feature of this decade being the bodice or blouse sleeve.
At its widest in andthe puff gradually withdrew back up the arm during the later s fig. Female fashion of the early s favoured an hourglass silhouette — a small waist and skirt that fitted the hips smoothly, flaring out towards a sweeping hemline. Blouses and bodices for formal wear could be very feminine: often decorated with tucks, ruches and lace panels, they were made full in front to emphasise the bust fig. Plainer, shirt-like blouses were becoming usual for everyday wear, the 'tailor made' suit comprising fitted jacket and matching skirt providing a practical outfit for the modern woman of the new century.
During the s — the decade now regarded as heralding the start of modern fashion — a more natural line evolved. Slender one-piece or tunic-style layered dresses were worn for 'best' but for ordinary day wear a calf-length skirt and blouse were usual: after the high choker-like Edwardian neckline began to lower and by around an open blouse neckline with a collar was common fig.
Briefly, between around anda slightly high-waisted barrel-shape defined fashionable dress and during the early s styles were typically rather straight and shapeless, dress and skirt hemlines still worn around mid-calf level fig. In a dramatic change occurred and fashionable skirts rose to just below or on the knee, these shorter hemlines remaining in vogue until at least and offering a firm dating guide.
In the early s hems lengthened to the calf again, becoming fuller and more feminine, fluid, draped fabrics creating the soft, clinging styles that were fashionable for much of this decade. In early photographs of the s and s, men are usually portrayed wearing the dark, knee-length frock coat of the midth century, teamed with a close-fitting, deep V-fronted waistcoat and narrow trousers fig.
During the s, several new male garments were introduced, most notably the comfortable lounging jacket that was shorter than the stately frock coat and often worn with loose, contrasting trousers fig. Over time this combination evolved into the lounge suit — an outfit that became acceptable for all but the most formal occasions and was soon the 'Sunday best' dress of working class men.
By the s, usually all three pieces of the lounge suit matched and early in the decade the lapels of the lounge jacket were usually made quite wide fig. During the later s and s the male suit was tailored more narrowly, the jacket developing high, neat lapels and a handkerchief often worn in the breast pocket.
The conservative, dignified frock coat was still favoured by the upper classes, but the stylish morning coat, with its distinctive sloping front edges, was popular with the business classes and for semi-formal wear, often worn with narrow pin-striped trousers fig. By the turn of the century, a greater variety of male garments may possibly appear in photographs, including some items of sportswear and the casual blazer, popular for weekends and leisure activities.
The most common outfit seen in studio photographs, however, is still the familiar three-piece lounge suit, which remained the regular respectable outfit for ordinary working men and did not change significantly for the first 20 years or so of the 20th century. The typical lounge suit of the Edwardian era was slender or easy in cut, the lounge jacket made to around hip length and usually featuring neat lapels fig.
During the s and s, the jacket lapels were often longer, while trousers sometimes show a centre front crease and may have turn-ups fig. During this decade and for most of the s, trousers often appear very short and decidedly narrow around the ankle, exposing either old-fashioned laced boots or the more modern, lower cut shoes. Men's styles of the s are generally very easy to spot as the suit was cut much wider, the boxy lounge jacket - either single- or double-breasted - having broad padded shoulders and trousers being worn longer and looser in the leg.
Between the s and s, young girls' frocks followed the shape of their mothers' outfits, having a fitted bodice and a full skirt. Their hemlines were much shorter, however, beginning at knee-length and steadily lowering as the child grew older, until she was ready to dress like a woman at some point between the ages of 15 and The arrangement of the bodice fabric followed prevailing female fashions and sleeves were usually short and puffed, perhaps trimmed with ribbons or frills fig.
During the early s, young girls did not wear the fashionable bustle but skirts were often layered and flounced, polonaise-style, echoing the appearance of adult modes.
In around female children began to wear narrower dresses, again mirroring wider fashion trends, their clothing ornamented with high frilled necklines and fashionable ruches and pleats and the sleeves invariably long. By the bustle was often incorporated into the back of the foundation skirt itself in the form of a small pad attached to the waistband and horizontal rows of steel which could be pulled into a curved shape.
This dress has a foundation skirt of grey denim that is cut straight in front and gathered and pleated at the back to follow the lines of the separate bustle worn underneath. Riding habit jacket Messrs. Redfern and Co. For much of the nineteenth century fashionable women wore dark woollen tailored jackets inspired by men's coats. By the s their dress was so similar that some observers noted that from a distance it was difficult to distinguish very young ladies from young gentlemen.
This was no doubt helped by the fashion for wearing bowlers, top hats, cravats, waistcoats and trousers under skirts. Many women's jackets were embellished with details borrowed from military uniform. Braiding was a popular form of decoration inspired by ornamentation on regimental dress as well as the flamboyant hussar designs.
This elegant example is based on the regimental patrol jacket characterized by parallel rows of applied braid across the breast, looped at intervals into designs known as 'crow's feet' because of their distinctive shape. Here the rows are shortened, and fanciful whirls at the proper right edge and on the collar do not relate to military models.
This imaginative combination of vertical and horizontal trimming emphasizes the length of the bodice rather than its width and ensures that the waist appears relatively small.
The tailoring firm Redfern and Co. They were famous for their sporting costumes, smart tailor-made dresses and coats suited to everyday fashionable wear. During the mids Redfern incorporated braiding into many of their designs for walking outfits and outdoor jackets. The Queen magazine of 10 May commented on some particularly striking examples including, 'The "Hungarian" The wife of Constantine Ionides, a wealthy art patron and collector.
She is shown in aesthetic dress. Aesthetic dress was popular in the s and s, particularly within artistic and literary circles. They did, however, favour luxurious trimmings such as lace, as shown here. Court shoe Designer unknownEngland Silk velvet with silk ribbon, lined with satin and leather, with diamante buckle Museum no.
However, after a long absence heels began to make a comeback around the mid-century.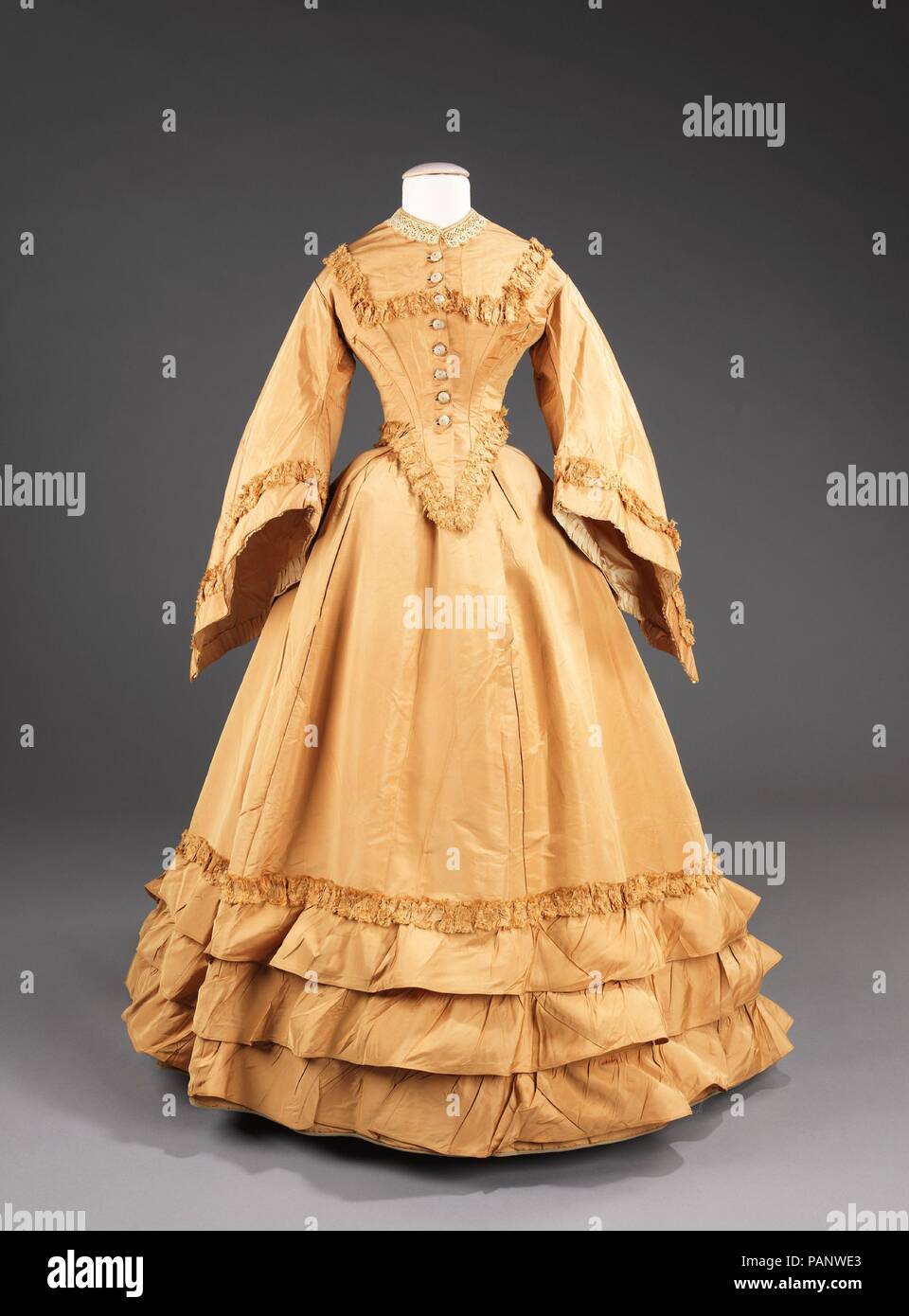 Low-cut slip-on shoes or 'court' shoes were the most popular form of women's footwear during the 's and 's. The curved construction of the heels on this brown velvet pair was influenced by the heel shapes from the previous century. In the early part of the decade, women wore tight bodices with high collars and narrow sleeves, much as they had done in the previous decade.
Victorian EraVictorian FashionVintage PhotographsVintage PhotosDate Outfits Period OutfitLeg Of Mutton SleevePall MallVictoria Reign. More information. See more ideas about Victorian, Historical clothing and Vintage gowns. punk Suppliers: Century Victorian Dress - Victorian Late Bustle Dress Date: . Dating Old Family Photos – Victorian Era () those vintage photographs were actually taken as hair and clothing styles looked much the same.
From about however, sleeves started expanding into a leg-of-mutton shape, which was tight at the lower arm and puffed out at the upper arm. Wide shoulders were fashionable and horizontal decoration on the bodice further exaggerated the line.
Skirts were worn in a full-length, simple A-line. Masculine styles and tailoring were increasingly popular, and women sometimes sported a shirt collar and tie, particularly when playing golf or out walking. Hair was worn high on top of the head, in tight curls.
Hats were small or wide with lots of trimming, but generally worn squarely on top of the head. The three-piece lounge suit was very popular and regularly worn from the s onwards, and it became increasingly common to have creases at the front of the trousers. Frock coats were still worn, but generally by older or more conservative men. Collars were starched and high, with the tips pressed down into wings, though by the end of the century collars were more frequently turned down and worn with the modern long, knotted tie style.
Hair was cut short and usually parted at the side. Heavy moustaches were common, and older men still sported beards. Some men now went clean-shaven. His 'Portraits of Many Persons of Note' fills three volumes with nearly portraits and comprises a pictorial Who's Who of late Victorian and Edwardian celebrities.
Family photograph Artist unknown England Platinum print Museum no. This photograph is taken from a family photograph album. Most of the photographs in it are printed on platinum paper, which was introduced in Such a photograph was expensive to produce and enjoyed for its delicate tonal gradations and matt surface. This family photograph album contains single and group portraits and depictions of sports and pastimes that would have amused family, friends and visitors.
It is a personal keepsake and document of a wealthy family of the s. Throughout most of the 19th century women had few legal rights to property, money, children, or even, after marriage, their own bodies. However, there were great changes in attitudes during the last decade of the century. The traditional role of women was questioned and some women openly defied convention. They educated themselves by reading widely and took up what were seen as 'un-ladylike' activities such as smoking and cycling.
The free movement of the bicycle was seen as a symbol of equality and personal freedom. The dress worn by the ladies in this photograph is typical of the s.
They wear high collars with puffed, leg of mutton sleeves. The dresses are full length but quite slim. The sitter wears a high lace collar with leg of mutton sleeves, but this dress also has many of the features associated with the dress reform trend of the late 19th century. The trend ran parallel with the Arts and Crafts Movement and advocated a radically new approach to dress in an effort to free women from corsetry.
This portrait of Princess Louise, Marchioness of Lorne and Duchess of Argyll, illustrates formal evening dress from around Her waist is severely corseted and she wears a bustle to give a pronounced, hourglass shape.
The volume of the skirt is pulled towards the back and drapes over the bustle.
When dating a costume picture by dress, I always seek out the most fashionable soft fullness at the head and the fitted silhouette suggest late Victorian styling. Victorian women's fashion. enormously and rapidly through the s - in fact, in the later s, experts can easily date clothes to within a year or two. Evening dresses were often off the shoulder. Hair was parted in the centre with ringlets at the side of the head, or styled with loops around the ears and pulled.
Her hair is piled on top of her head in tight curls, fashionable during the s. HollyerThe fashionable s gentleman in this portrait sports short centre-parted slicked-back hair, with a generous moustache twisted at the ends.
He wears a high collar turned over to form wings, and his waistcoat buttons high at the chest. The sitter in this portrait sports a generous and groomed moustache, fashionable throughout the s.
It was common to have a pointed beard too. Collars were turned over into wings, and became taller throughout the decade. The jacket buttons fashionably high up. However, hairstyles can be of some use in dating.
The sitter in this photograph sports a full moustache very fashionable in the s. Boating suit jacket, waistcoat, trousers Designer unknown s Great Britain Cream wool with blue pinstripe, hand- and machine-sewn Museum no. Light-coloured suits such as this became popular from the s. Matching coats, trousers and waistcoats, known as 'dittos', in pin-striped flannel were accepted dress for summer sports and holidays. The outfit was often completed with a straw boater.
Striped jackets were originally worn for cricket, tennis and rowing and became fashionable for seaside wear during the s. The infiltration of sporting dress into informal styles of clothing shows how social conventions were relaxing in the late 19th century. Conventions in dress applied to informal as well as more formal wear. It was important to be dressed appropriately for the occasion. It may be remarked, however, that it is easy to stultify the whole effect of these, however perfectly they may be built 'by the tailor' by the addition of a single incongruous article of attire; such as a silk hat or patent boots with a shooting-suit.
Photograph, portrait of A. Hinton was a photographer and member of the Linked Ring, a brotherhood of photographers committed to excellence in all styles of photography which flourished between and The sitter sports a high collar folded over into wings and a high buttoned waistcoat.
His moustache is long and twisted at the ends. Ltd London Pongee silk with smocking and machine-made lace Museum no. This dress has many of the features associated with the dress reform trend of the late 19th century. The clothes were homemade or produced in commercial studios. They used natural and artistic materials and often included hand-embroidered decoration inspired by the countryside and wild or garden flowers. Smocking too, seen here at the waist, on the sleeves and at the neckline, evoked an imaginary rural simplicity.
Boater hat Designer unknown s Great Britain Plaited straw, with a silk grosgrain hatband Museum no. Boaters were stiff straw hats with a moderately deep flat-topped crown and straight narrow brim and with a hatband of Petersham ribbon thick double ribbon which was generally watered, plain, figured or striped.
This particular model is marked on the inside with the patent number The patent is for the elastic size regulator which is fitted inside and would alter the inside of the hat to the shape of the head. The straw hat was at first only accepted for holidays and summer sports.
By the s it had become popular for city wear. In the New York Herald of Fashion observed: 'It was only last summer that Londoners began to wear straw hats with any freedom. Before then it would have been a social crime for any man pretending to fashionable dress, to appear in London streets in any hat other than the high silk hat. But is must be remembered that a straw hat or low hat cannot be worn with a black coat of any kind. The boater was worn by all social ranks and had no 'class distinction'.
If he goes to a garden party in a frock-coat and a straw hat, he is condemned more universally than if he had committed some crime. The evidence of the latter would not be upon him for all men to read, as the evidence of his ignorance in social forms is, in his mistaken notions of dress.
Photograph, portrait of Sir George Lewis, Bart. The sitter in this portrait sports a four-in-hand Ascot tie, very fashionable during the s and s. The Ascot tie is made of a narrow neck band with a wide cravat style front, neatly folded and pinned with a tie-pin. It was generally worn for morning dress, and is now commonly worn for weddings.
The collar is typically high, with folded wings. The waistcoat is buttoned high on the chest. Pair of boots Anton Capek designed and madeC. This boot is one of a pair made in Vienna for display in a London shop.
It shows European shoe-making at its finest. The slender ankle, curved Louis heel, and high, buttoned leg were very fashionable in Viennese and Belgian bootmakers produced some of the most striking footwear of the early 20th century.
Their stylish boots made good display pieces for retailers. This example is elegantly restrained, but others were richly decorated and made in bright colours.
These boots advertised that top-quality fashionable footwear could be had from the shops that displayed them. When their style went out of fashion and they were no longer useful to shops, display shoes and boots were stored or sold. This pair was purchased in for 8 shillings and sixpence. Dress Designer unknown About France Wool, trimmed with ribbon, braid and machine-made lace, the bodice lined with cotton Museum no.
This dress was worn by the mother of the donor and is said to have been bought in Paris. It was probably ready-made. Boleros and figure-moulding, flared skirts were very fashionable at the time. The Queen showed examples with epaulettes, blouse fronts and pointed belts 2 April Another magazine illustrated a similar example: 'The newest bell skirts are absolutely without fullness at the top…. It fits closely over the hips and begins to form a series of fluted pleats a little above the knee' 'Our Lessons in Dressmaking', Myra's Journal, 80, 1 April She was a well known artist, and a champion of 'Aesthetic' dress - a dress movement that eschewed restrictive corsetry and artificial bustles for loose, draping clothes with simple silhouettes in natural fabrics and colours.
This portrait is of the Louise Jopling Roweone of the best known female painters of the Victorian era. She is shown here at 47 years old, when she was already interested in 'rational' dress - a dress movement that eschewed heavy bustles, massive crinoline skirts and tight corsetry. At the turn of the century she served as vice-president of the Healthy and Artistic Dress Union, which championed this less restrictive mode of dress. The dress she is wearing here has several features of artistic dress.
The silhouette is very simple and unfussy, and the dress is loosely corseted or not at all - a distinctely unusual feature during the s. Day dress skirt and bodice Designer unknown France or Italy Printed silk, with insertion and trimmings of cream silk gauze, hem bound with pink velvet, lined with silk, whalebone supports in the bodice, and metal hook and eye fastenings Museum no.
This dress would have been worn for fashionable day wear. It has a fitted bodice, with a pointed waist, and a frilled collar and cuffs trimmed with gauze and a machine-embroidered border.
The leg-of-mutton sleeves are long, full, gathered at the shoulders and gauged at the insides of the elbows. The marked, horizontal emphasis at the shoulder line meant that it was often difficult to wear fitted coats and jackets out of doors. The short, circular cape therefore came into its own for both day and evening wear. The growth of the sleeve was balanced by an increase in the size of the skirt.
In aboutflared skirts were introduced. They grew to their widest extent in aboutalong with the sleeve, and had names such as 'the bell', 'the fan' and 'the umbrella skirt'. The low collar is an unusual feature, more common towards the end of the s than at the beginning.
Since the dress has been let out, suggesting a longer period of use, it may be a later alteration. Engraving of outdoor dress designed by Maison Worth, Paris A. Both women wear the fashionable ideal of mid s dress.
They are both dressed in tightly corseted, fitted bodices with high collars and exaggerated leg of mutton sleeves. The silhouette emphasises a voluminous and horizontal collar line. Their skirts are long but moulded at the hips in an A-line shape, contrasting with the massive skirts and bustles of previous decades.
This portrait of Lady Duckworth shows her in Victorian mourning dress. A widow was expected to conform to strict rules governing her clothes for at least two years after the death of her husband, which included the wearing of a widow's lace cap and a black cape as seen here.
A younger woman might discard her mourning garb after two years, but elderly widows generally wore it for much longer, if not the rest of their lives. She also wrote several books. She is shown here in fashionable mid s dress, sporting a rather masculine tailored jacket with exaggerated leg of mutton sleeves.
Suit Designer unknown Germany Tweed, lined with silk twill Museum no. As women engaged in a wider range of activities in the 19th century, more practical clothing styles were adopted. Tailor-made outfits such as this one helped meet the needs of a diverse lifestyle.
Plain woollen costumes were considered ideal for a variety of leisure pursuits and could be adapted for sports such as shooting and golf. They may not have been more comfortable than other styles but the hard-wearing fabric and relative lack of trimmings made them easier to care for and very versatile.
Style was not necessarily sacrificed for function as elegant, close-fitting designs graced the pages of tailoring journals. Some featured jackets and skirts in contrasting checks, stripes and diagonals, others, like this one, were made of the same material throughout. Here the jacket is semi-fitted with no shaping in the front or fastenings so that it shows off the waistcoat underneath.
The pearly tones of the buttons complement the soft colour of the cloth and the ruffled frill on the stand collar adds a delicate touch.
Coat and skirt Jacques Doucet About Paris Linen, with collar and cuffs embroidered with silk cord, elastic stays attached to the inside of the skirt to control the fullness, hand and machine sewn Museum no.
They borrowed details from men's dress, such as wide lapels and exterior pockets. This practical style suited the more emancipated lifestyles women were then leading. This suit might well have been worn for a tour abroad. When it was conserved, reddish-brown dust was found on the surface. Linen was particularly popular for hot-weather travel because it was washable and comparatively lightweight. Jacques Doucet was one of the best known and most highly respected couturiers of the late 19th and early 20th centuries.
He was famed for his extravagant gowns, tailored suits and luxurious coats. Inheriting a lace and lingerie establishment in Paris, Doucet expanded the family business by opening a couture department in the s. The Parisian elite soon patronised his salon, admiring his taste in fabrics and the meticulous quality and workmanship of his creations. We have launched a new website and are reviewing this page.
Find out more. Victoria and Albert Museum The world's leading museum of art and design. Open daily Men Very fashionable men sported low, tightly cinched waists, with rounded chests and flared frock-coats that gave them a rather hour-glass figure inspired by Prince Albert.
Print, A. Dress, designer unknown Dress Designer unknown About Great Britain Silk satin, trimmed with velvet ribbon, lined with linen and silk, hand-sewn Museum no. Dress, designer unknown Dress Designer unknown Great Britain Silk satin, lined with cotton, edged with brush braid, hand-sewn Museum no. Eyre By the end of the s, the wide neckline had closed up to a high, round opening.
Dress, designer unknown Dress Designer unknown Great Britain Printed wool, lined with linen, hand-sewn Museum no. Ensemble, designer unknown Ensemble waistcoat with suit and top hat Designer unknownand Great Britain Jacquard-woven silk, covered buttons, lined with cotton and backed with scrim, foreparts lined with leather waistcoat Museum no. Shaw This is an excellent example of a double-breasted frock coat. Dress, designer unknown Dress Designer unknown About England Silk satin, lined with cotton, reinforced with whalebone, and hand-sewn Museum no.
Music sheet, J. Brandard Music sheet John Brandarddesigner ; M. Opera boots, designer unknown Opera boots Designer unknown s Great Britain Black leather, with suede leg and silk bow, hand- and machine-sewn Museum no.
Dating victorian clothes
An anonymous cavalry officer described how this style of boot could be used as a substitute for shoes in his book The Whole Art of Dress : 'This boot is invented, doubtless, for the mere purpose of saving trouble in dress; for without attending to silk stockings or the trouble of tying bows, you have merely to slip on the boots, and you are neatly equipped in a moment.
Paisley dress with shawl, designer unknown Dress and shawl Designer unknown Great Britain Printed wool, lined with linen Museum no. Silk satin dress edged with braid, with lace shawl Dress Designer unknown England Silk satin lined with cotton, edged with brush braid Museum no. Block printed wool day dress, designer unkown Dress skirt and bodice Designer unknown Great Britain Block-printed wool, lined with cotton and the bodice boned with whalebone Museum no.
WHAT TO WEAR ON A DATE - First Date Outfits for Men - Alex Costa
Harrods Ltd Curling tendrils separated by undulating lines and a lattice work of simulated trimming adorn this block-printed wool day dress. Museum no. Bracelet by Pierre-Jules Chaise, enamelled gold and diamonds Bracelet with portrait miniatures Pierre-Jules Chaise About Paris Enamelled gold, rose and brilliant-cut diamonds, ivory and mother-of-pearl Museum no.
Silk satin shoes with ribbon rosette, Latham Shoes Latham London Silk satin with rosettes, ribbons and elastic Museum no. Harrods Shoes with high heels were almost non-existent in women's fashions during the first part of the 19th century.
Wool coat with velvet facing, designer unknown Coat Designer unknownUnited States of America Wool faced with silk velvet, lined with wool Museum no. Promenade dress of silk plush with fringing, designer unknown Promenade dress skirt, bodice and mantle Designer unknown Great Britain Silk plush trimmed with silk fringe and braid, lined with silk and whalebone Museum no.
Photograph of Maharaja Duleep Singh in formal day dress, about Printed cotton summer dress, designer unknown Day dress Designer unknown About Great Britain Printed cotton, trimmed with whitework embroidery Museum no.
Harrods This is an example of a fashionable summer day dress of the late s. Cream satin slipper, designer unknown Shoes Designer unknown About Great Britain Satin slipper with ribbon, leather sole Museum no.
Fashion plate, day dresses Gaoubaud publisher and Legastelois printer Fashion plate Paris Museum no. Silk day dress trimmed with beads and fringe, designer unknown Day dress bodice and skirt Designer unknown About Great Britain Silk trimmed with bugle beads and silk fringe, lined with cotton and whalebone Museum no. Silk dress with silk braid and beads, designer unknown Dress Designer unknown Great Britain About Silk trimmed with silk braid and beads, lined with glazed cotton, edged with brush braid, hand-sewn Given by Miss Edith Westbrook Museum no.
Bright The bride's dress was a focal point just as it is today. Silk and wool day dress trimmed with fringe, designer unknown Day dress bodice, skirt and overskirt Designer unknown Great Britain Silk and wool faced with silk, trimmed with silk fringe; lined with glazed cotton and whalebone Museum no. Beard The crinoline went out of fashion quite dramatically about Cotton muslin daydress with lace and embroidery, designer unknown Day dress Designer unknown England About Cotton muslin, trimmed with satin, bobbin lace and machine whitework Museum no.
Ribbed silk boot with lace trim, designer unknown Pair of boots Great Britain or France Ribbed silk trimmed with lace and ribbon; leather sole Given by Dr. Silk dress with braid, lace and silk fringe Dress Designer unknown Great Britain Silk, trimmed braid, beads, hand-made Maltese-style bobbin lace and silk fringe Museum no.
Silk dress with beads and embroidery, designer unknown Dress skirt and bodice Designer unknown France Silk, hand-embroidered in black silk and cut-steel beads, trimmed with black taffeta, with a lace collar Museum no. Goodman This dress is machine-embroidered, but hand sewn. Silk dress with bustle, designer unknown Dress dress, peplum and belt Designer unknown About Great Britain Silk, trimmed with silk braid, lined with glazed cotton and buckram, faced with silk and ribbon Museum no.
Silk day dress, designer unknown Day dress Designer unknown About Great Britain Silk, trimmed with silk ribbon and silk satin, lined with glazed linen, machine and hand sewn Given by Miss R. Fine wool morning coat, designer unknown Morning coat Designer unknown Great Britain Fine wool, with a velvet collar; edges bound with wool braid; buttons covered in sateen; partially lined with twilled silk, and sleeves lined with twilled cotton Museum no.
Cotton velveteen coat, designer unknown Coat Designer unknown Ireland Cotton velveteen, lined with silk, wool twill and cotton, edged with wool braid Museum no.
Jacquard silk dress with ruching and lace, designer unknown Dress Designer unknown Great Britain Jacquard woven silk, ruched silk trimmed with machine lace Given by Miss K. Evening dress, Mrs. Golding Evening dress Mrs. Horn This ensemble characterises fashionable evening wear for women in the late s. Corded silk afternoon dress, designer unknown Afternoon dress Designer unknown Great Britain Corded silk, trimmed with corded silk, lined with cotton, faced with silk, edged with brush braid, machine and hand sewn Museum no.
Double-breasted frock coat, designer unknown Frock coat Designer unknown Ireland Museum no. Furlong This is an excellent example of a double-breasted frock coat. Dress, designer unknown Dress Designer unknown Great Britain Aniline dyed silk, lined with cotton, trimmed with satin and bobbin lace, reinforced with whalebone Given by Mr Leonard Shields Museum no.
Evening dress, C. Worth Evening dress skirt and bodice Charles Frederick Worth About Paris Silk satin, trimmed with pearl embroidery and machine-made lace, lined with white silk, the bodice supported with whalebone struts, machine and hand sewn Given by Mrs G.
Evening dress, E.
Dating Victorian Era Photos (1840-1900)
Wiggins Evening dress E. Hollyer, This photograph shows the actress Ellen Terryone of the most celebrated and loved actress of her day. Hollyer, Hollyer was the photographer of choice for the artistic set of the late 19th century. Portrait of Mrs Walter Crane, F. Dress, C. Worth Dress skirt and bodice Charles Frederick Worthprobably About Paris Wool, with figured satin panels, edged with silk braid Museum no.
Summer dress, designer unknown Summer dress Designer unknown About Bristol White cotton, trimmed with Bedfordshire Maltese lace, machine-stitched and hand-finished Museum no. Phayre This light summer dress would have been ideal for a hot climate. Satin and chenille dress, designer unknown Dress Designer unknown About Great Britain Satin, trimmed with applied beading, chenille tassels and needle lace, lined with cotton, reinforced with whalebone, edged with brush braid, machine and hand sewn Museum no.
Nicholls According to the donor, this dress was worn by her mother on her wedding day. Owram This is an example of a formal evening dress which would have been worn to smart dinners, the theatre and other fashionable evening entertainments. Dress, designer unknown Dress Designer unknown About Great Britain Satin, with machine-embroidered panels and silk collar, cuffs and front with a velvet warp-figured stripe Museum no.
Steel This trained overdress is styled to suggest a man's coat of the Directoire period in France. Dress, designer unknown Dress Designer unknown About Great Britain Jacquard-woven silk, mother-of-pearl, cotton and whalebone Museum no. Padget This elegant bustle dress displays a dense pattern of violets springing from a bed of vine leaves. Tyler For much of the nineteenth century fashionable women wore dark woollen tailored jackets inspired by men's coats.
Victorian fashion comprises the various fashions and trends in British culture that emerged and developed in the United Kingdom and the British Empire. Victorian fashions reflect clothing worn between - Dolores's interest in fashion history dates from her teenage years when vintage. This is our private collection of antique clothing and accessories, which we use for . The original dress dates from the 's; Gabriel found it through an online .
Portrait of Agathonike Ionides, G. Velvet court shoe, designer unknown Court shoe Designer unknownEngland Silk velvet with silk ribbon, lined with satin and leather, with diamante buckle Museum no. Portrait of General Smuts, F. Family photograph, artist unknown Family photograph Artist unknown England Platinum print Museum no.
Portrait of Constance Lytton, F. Portrait of Princess Louise, F. Portrait of James Drew, F. HollyerThe fashionable s gentleman in this portrait sports short centre-parted slicked-back hair, with a generous moustache twisted at the ends. Contact Us. Your email address will not be published.
Save my name, email, and website in this browser for the next time I comment. Facebook Twitter. Why Choose Genealogists. Leave a comment Uncategorized. Knowing how to identify Victorian era female hairstyles can be one of the most surefire ways of dating old family photos. Remember, however, that the descriptions below are generalities and you very well could stumble upon exceptions to these rules. ISBN Topknots were also worn toward the back of the head as opposed to the front an s style.
Tip: If you see a female child with hair parted on the side from this time period, it was likely a boy dressed as a girl. In the s, photography was still considered a new technology.
But as photo processes became more advanced and less expensive with the introduction of ambrotype portraits, women wanted to look more sophisticated in their photos. Sides of hair should be smoothly waved and ears still hidden by puffs.
Next related articles: